Here when you need us
At Hammond Good Solicitors we appreciate that not every legal issue arises during office hours.  We are happy to facilitate clients with meetings outside of office hours or at weekends where it is difficult for the client to meet with us during the week.  We also ensure that our email accounts are checked regularly outside of office hours and at weekends to ensure that we are in apposition to respond promptly to any urgent needs of our clients.
Mallow, In the heart of Munster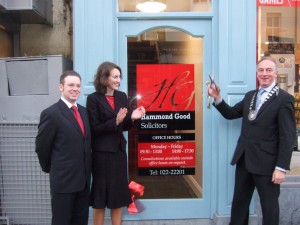 At Hammond Good Solicitors we embrace our location in Mallow, the traditional "crossroads of Munster" as an opportunity to provide services to clients in any location and regularly travel to meet clients in their homes or in their own locality as circumstances require.  Geography is no object to retaining hard-working dedicated legal professional and we are pleased to work for clients throughout Ireland.
At Hammond Good Solicitors we understand our local community and offer services of the highest quality and value to our local clients.  The offices of Hammond Good Solicitors are located on the Main Street, in Mallow, County Cork.  Mallow as a thriving town is the centre of activity for many businesses, both within the town and in the surrounding hinterland.  It is also the nexus of activity for thousands of people based in the surrounding villages and countryside in the Blackwater Valley.